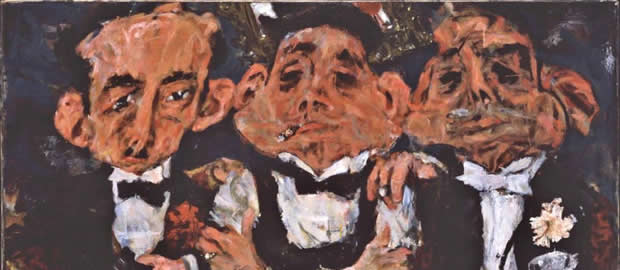 Nor was it a reaction Jack would have been surprised by from a person of power in 20th century America. Because that was Jack – a man whose artwork satirized and mocked the crooked politicians, plutocrats, and those he felt were inflated by hypocrisy.
Jack Levine most famous paintings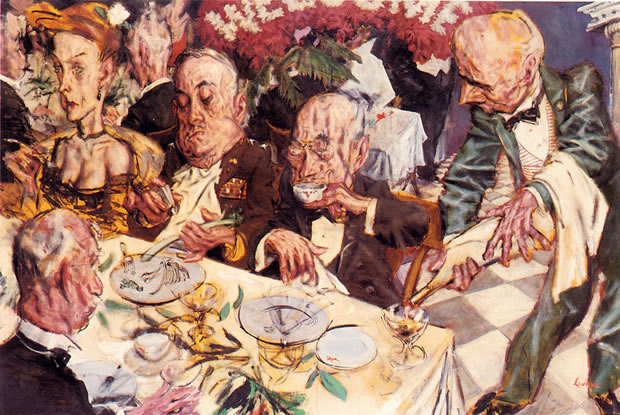 Gangster Funeral
Created in 1952-53, this piece is regarded as a seminal moment in the career of Levine and is regarded by many as his best work. The commentary on mob life in America was a narrative referred to by Levine as a "comedy".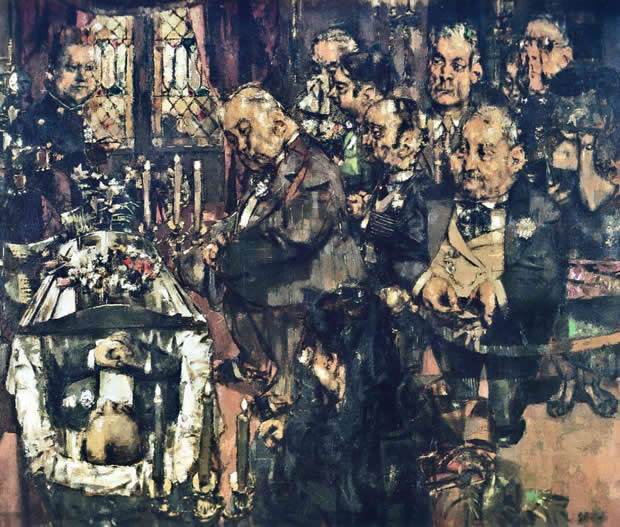 The Patriarch of Moscow on a Visit to Jerusalem
Completed in 1975, this painting was the culmination of a series of paintings that were inspired by a trip Levine took to Jerusalem earlier in the decade.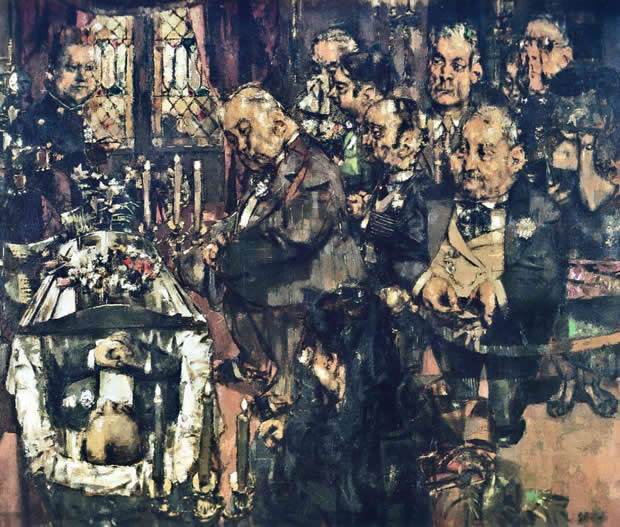 The Syndicate
Painted in 1939, this work depicts the relationship between those in power and the mob – a theme that Levine would continually revisit throughout his career.
Welcome Home
The painting famously dismissed by President Eisenhower was completed in 1946 on Levine's return from military service. Depicting a feasting general, Levine described the painting as not "so much of an attack on the Army as an expression of great joy at getting out of the Army."
Born in the South End of Boston on 3 January 1915, Jack Levine was the youngest of eight siblings. Talented from an early age, Jack was encouraged to pursue his art from an early age by his parents, Mary and Jack Levine – an immigrant Lithuanian shoemaker. In 1923, the Levine family uprooted to the town of Roxbury in Massachusetts and the then eight-year-old Jack enrolled in art classes at the nearby Boston Museum of Art. He attended those classes with his friend Hyman Bloom (himself a well-known painter) who was also of Jewish heritage and went on to study with a young painter by the name of Harold Zimmerman.
Through fate or good fortune, when working with Zimmerman, Jack found himself introduced to Denman Ross, from the prestigious Harvard Art Department, and began studying painting under the much-admired patrician professor. With the support of Dr Ross, a 16-year-old Levine was able to showcase his drawings with an organized show at the Fogg Museum – the oldest of Harvard's museums – and was provided with a studio and the funds in which to progress his talent.
In 1935, in the grip of the Great Depression, Denman Ross sadly passed away, but Levine's talent landed him funding with a scheme set up by the government that allowed artists to receive state benefits in return for paintings. In 1936, two of Levine's early notable paintings – Brain Trust and Card Game were selected for an exhibition of at New York's famous MoMA (Museum of Modern Art), named "New Horizons in American Art". Levine's String Quartet painting was also purchased from the government by MoMA.
Following the completion of his now well-known piece The Feast of Pure Reason, Levine finally earned national recognition. The painting – which depicted members of the Boston elite appearing to conspire together – entered the Museum of Modern Art, although not before a lengthy debate between members of the gallery over whether the clear suggestion of corruption was suitable.
The artist's burgeoning career was halted by a three and a half spell in the Army during World War II; despite this, his artwork continued to gain attention. Returning home after the Second World War, Levine married Ruth Gikow, a fellow artist from New York City. The two shared a mutual love of figurative art and shunned the abstract art that was quickly becoming a favourable movement. Drawing inspiration from the likes of Titan and Velázquez, Levine continued to special in artwork that delivered a social commentary directed at corruption, militarism, racism, and big business.
In 1968, Levine was sent to cover the Democratic convention, and commissioned to produce two works; this resulted in two of his more popular works: On the Convention Floor and Daley's Gesture.
As the latter part of the 20th century approached, Levine's recognition in the mainstream began to fade. A celebration of his art was showcased in a collection at the Jewish Museum of Art in 1978 and a documentary entitles The Feast of Pure Reason was produced and directed by David Sutherland in 1989.
Jack Levine passed away at his home in New York on 8 November 2010.